Misselwood Concours d'Elegance
Celebrating Excellence, Style, and Elegance on Boston's North Shore since 2010!
1928 Isotta Fraschini Tipo 8A SS takes Best of Show at 2022 Misselwood Concours d'Elegance
Beverly, Mass., July 18, 2022 – The 12th annual Misselwood Concours d'Elegance welcomed over 100 cars and motorcycles to the ocean front Misselwood Estate on the campus of Endicott College. The annual fundraising event helps raise funds for Endicott College students, with all proceeds going directly to support students in need. The weather, cars, and people made the 2022 show truly spectacular.
Peter T. Boyle's 1928 Isotta Fraschini Tipo 8A SS would be crowned Best of Show when all was said and done. Chassis No. 1353 was built in Italy in 1928 and was then sent to American coachbuilder LeBaron to produce the gorgeous boattail cabriolet body with a single rumble seat that took everyone's breath away on Sunday. It was purchased new by aviation pioneer Harry Williams and his wife Marguerite Clark, a silent movie star whose looks inspired Walt Disney's Snow White. This car is a wonderful piece of history with only 22,000 original miles.
"What an incredible weekend of events, from the Cars & Coffee, to the Tour d'Elegance, to the main show on Sunday, everything went so smooth, the weather played a huge factor and for that I'm thankful," said Darren P. Stewart, Misselwood Concours d'Elegance Chairman. "I have a vision of what the Misselwood Concours can and will become and this year part of that vision became a reality, if you weren't here to witness what this show has become, please mark the date July 23, 2023 on your calendar!"
All funds raised from the entire weekend go directly to support Endicott College student scholarships!
2021 Event Highlight
2021 Best of Show Award
Our 2021 Best of Show was awarded to Steve & Susan Littin's 1914 Rolls-Royce Silver Ghost. This car has a unique history, in 1914 James Radley personally entered the Alpine Trials with a specially built Silver Ghost. This Rolls was built with the special instructions, "Make any alterations to car for the Austrian Alpine Trial". Ten days after the chassis left Rolls-Royce, James Radley with Rolls-Royce test driver Tubby Ward, won the 1914 Alpine Trial. The car was named "The Alpine Eagle". After the Alpine Trial, Rolls-Royce used the car for publicity, but due to the outbreak of WWI, they could see financial threats were near. The body was removed and the chassis was sold and sent to Brewster in NY for new coachwork. It was rebodied by Brewster in 1915 and again in the late 1920's. In the 1940's, it found its way to Connecticut where it was converted to a farm truck/tractor. The vehicle was found in 1999 by the Littin's on the farm and in derelict condition. It has since undergone an extensive restoration, by Steve himself, bringing it back to its former 1914 Alpine Trial condition. The saying holds true over 100 years later, "best car in the world".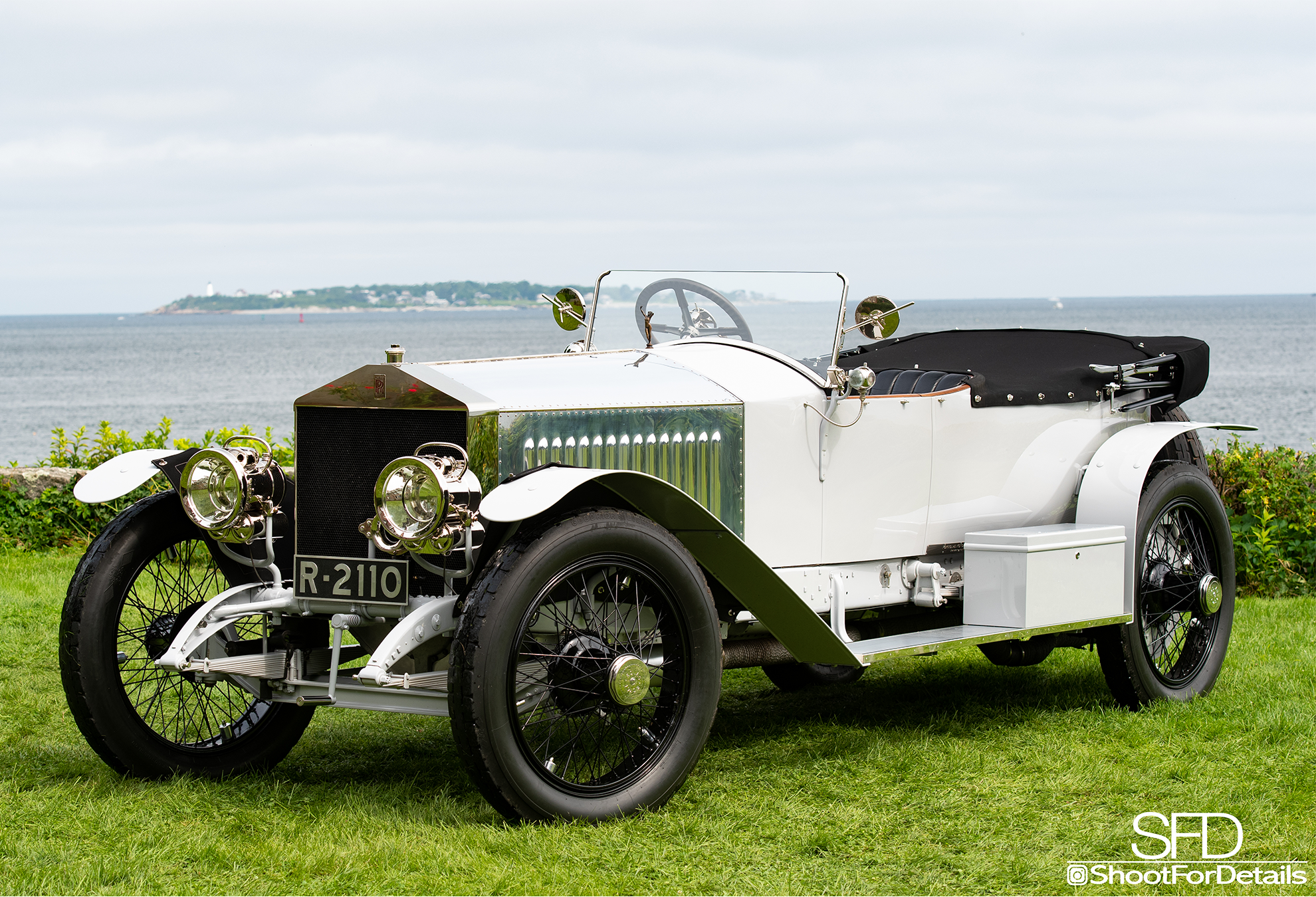 In Video
An Intimate Concours by the Sea, for the Whole Family
Our event offers a personal experience where you can talk to car owners, take close-up photos, and enjoy a fashion show—while supporting student scholarships.
Contact Us
Misselwood Concours d'Elegance
Darren Stewart
978-232-2347
Follow Misselwood Concours d'Elegance