Misselwood Concours d'Elegance
The official 2020 weekend of events have been postponed to July 16-18, 2021.

New Virtual Competition & Rally Tours Premiere This Summer
The Misselwood Concours d'Elegance is an event many motoring enthusiasts look forward to each July. However, this year's plans for the in-person gathering on the Misselwood Estate grounds will be moved to next summer, July 16-18, 2021. The safety and health of our participants, guests, sponsors, and volunteers is of the utmost importance during the COVID-19 public health crisis. While the main events will not be held as originally scheduled, alternative virtual and live events will take place instead.
The Misselwood Concours Virtual Show will allow participants to include three photographs of a competing car, and cars will be judged in 12 different classes. Applications will be accepted until July 6, you can apply on our Participants page or by emailing concours@endicott.edu. Beginning on Sunday, July 19, the cars will be revealed by class on the Misselwood Concours Facebook and Instagram pages with one or two classes posted per day. The grand finale will be on Sunday, July 26, when all class winners will be announced, along with the Best of Show.
"We're going to make the most of the hand we've been dealt," says Darren Stewart, Misselwood Concours d'Elegance Chairman. "We're working hard to put on a fun and entertaining virtual show which will broaden our reach while showing just how special a place Endicott College is."
Instead of the annual Tour d'Elegance, the newly envisioned Misselwood Rally Series will consist of three driving tours to take place on the following Saturdays; July 18, August 22, and September 19. "We're really excited for the Misselwood Rally Series," says Stewart. "This is something we'll plan on doing each summer from now on. Not only are we able to involve more car owners, but the Endicott students will be on campus for the final tour in the series as we finish by driving through main campus." Each part of the series is open to any pre-1990 classic car or motorcycle. Pre-registration is required and space is limited to 60 vehicles. Car owners can register on our Participants page or by emailing concours@endicott.edu. The routes will be different for each part of the series.
The show will be relying heavily on donations this year, so please give what you can to help our students. The easiest way to donate is by texting MWConcours to 41444. All funds raised from these events will support the Endicott College Concours Scholarship Fund. The Misselwood Concours d'Elegance has been a fundraiser since its inception, and has raised close to $200,000 in scholarship funds over the last 10 years.
"I think we owe it to our students to lead by example and not let coronavirus-related circumstances hold us hostage. We need to adapt and find creative ways to reach our goals. People are the heart and soul of the Misselwood Concours and I believe that will shine through now more than ever," says Stewart.
To stay informed, please follow us on Facebook and sign up to receive our monthly newsletter.
2019 Event Highlight
2019 Best of Show Award
Our 2019 Best of Show was awarded to Thomas and Vivienne Haines' 1936 Cord 810 Convertible Phaeton. The Cord 810 was only produced for 1936 and 1937. Praised for its innovation, the front-drive 810 is powered by a Lycoming V8 engine joined to a four-speed pre-selector transmission. The Gordon Buehrig designed body features a distinctive "coffin nose" louvered grille and retractable headlights. This particular first-year 810 was delivered new by the Cord factory agency in Los Angeles, Calif. and had the supercharger trim installed, minus the supercharger. Robert C. Stemple, a former President and CEO of General Motors was a previous owner. The Cord was recently restored by Prueitt Automotive Restorations of Glen Rock, Penn. over a four year period.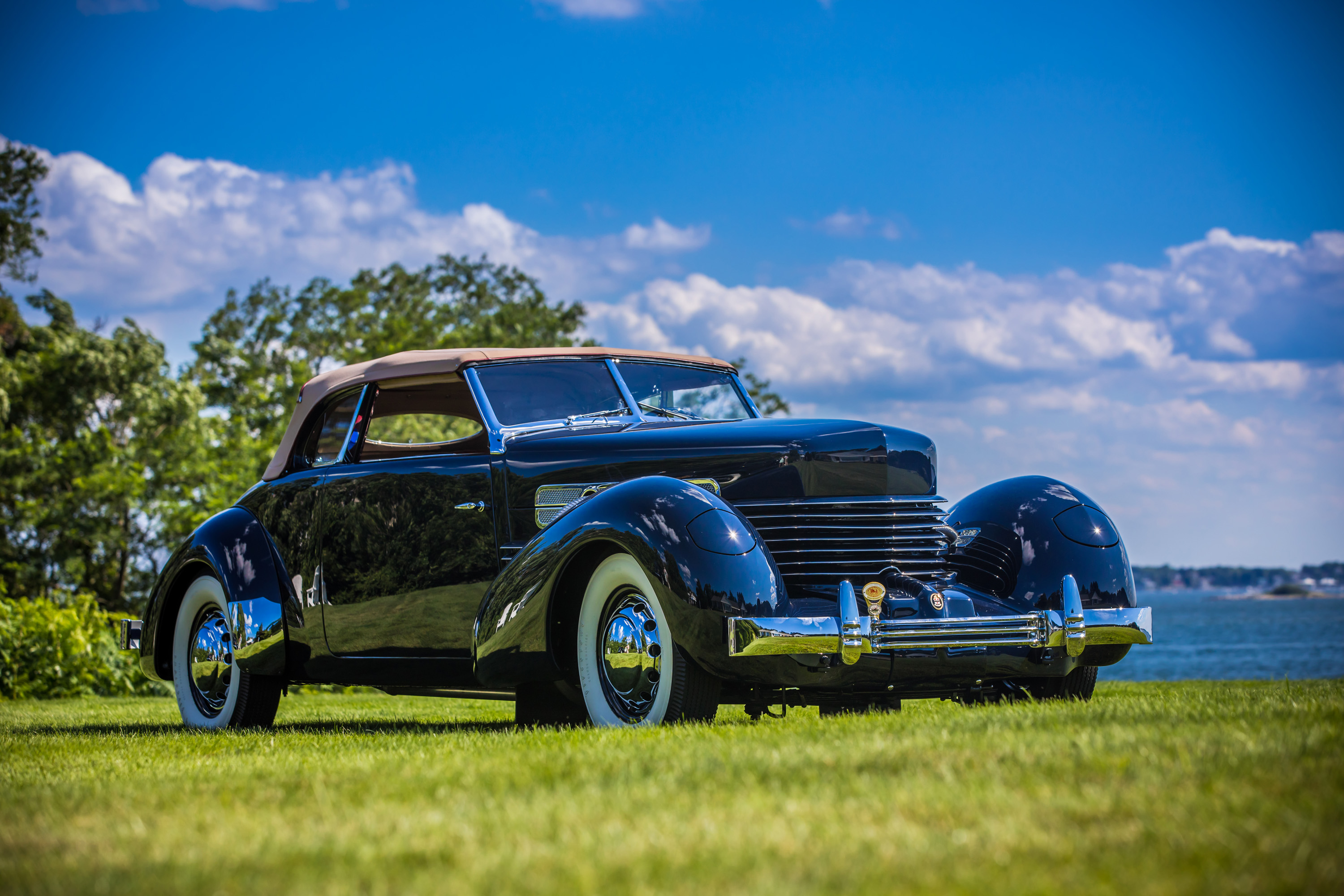 Contact Us
Misselwood Concours d'Elegance
Darren Stewart
978-232-2347
Follow Misselwood Concours d'Elegance